Important Travel News from Travelrite International Tours
28 April 2020
The past couple of weeks we have heard encouraging news from the Prime Minister that social distancing measures and movement restrictions are having a real impact and we are seeing a flattening of the curve, and community transmission limited. That said, to continue on this flattened trajectory, it's likely that restrictions will remain in place for some months. Simon Birmingham, Minister for Trade and Tourism, spoke of the unwinding of travel restrictions in the future, with domestic travel likely to come first, offering a chance for Australians to venture nationally and support local businesses and destinations. We're fortunate that Australia offers so much choice for travellers and plenty of coastline to navigate, once it's safe for ships to return.
We are continuing to monitor the situation each week and have now announced that Travelrite International Tours will be suspending all tours departing prior to 31st August 2020. If you are travelling with us on departures up to 31st August 2020 we will be in contact with you shortly.
We will be working through tours in departure date order from there.
All suspended tours will have the funds placed on hold for future travel on a Travelrite International/Value Holidays Tours.
Once more, we thank everyone for their kindness and patience as we work to find solutions for you. We are passionate about travel and about you having the best experience in this world's amazing destinations. We know in time you will be able to explore the world's wonders and beauty with us.
Regards
The Walliss Family
Advice from Travelrite International regarding the coronavirus outbreak:
We understand that the news around the coronavirus outbreak, or COVID-19, is unsettling with regards to future travel plans. We wish to reassure you that we are monitoring the evolving situation and to offer the following information:
There are measures in place across many areas such as northern Italy and Japan to contain the spread of Covid-19 (coronavirus), and in some towns and cities local governments have temporarily closed schools, universities and public spaces. We are monitoring these developments closely to establish how or if any of our future itineraries might be affected.
Both DFAT and the WHO advise common sense should prevail when travelling. Pay attention to hygiene: wash hands frequently and carry hand sanitiser, cover coughs and sneezes, and seek medical attention if you develop symptoms, especially a fever (temperature) or shortness of breath.
Smart Traveller website has up-to-date information and you can subscribe to follow them while travelling: "Subscribe to your destination and our news and follow us on Facebook and Twitter to receive latest updates on the situation as they occur."
Additional health screening procedures have been put in place on arrival in many countries, with which you will need to comply. Major airports are screening passengers body temperature on arrival and some also on departure. Currently enhanced monitoring is in place for passengers from China, South Korea, Iran, Northern Italy, Thailand, Japan, Taiwan, Singapore and Malaysia.
Recommended to pack:
hand wipes and sanitiser
face mask
saline nasal spray
If you have concerns, please contact us and we will be happy to discuss things in more detail. Please remember we are monitoring the situation.
The following links from the World Health Organisation and DFAT offer common sense advise and may help you to better understand the situation and individual risk:
https://www.who.int/news-room/q-a-detail/q-a-coronaviruses https://www.who.int/emergencies/diseases/novel-coronavirus-2019/advice-for-public https://www.smartraveller.gov.au/news-and-updates/coronavirus-covid-19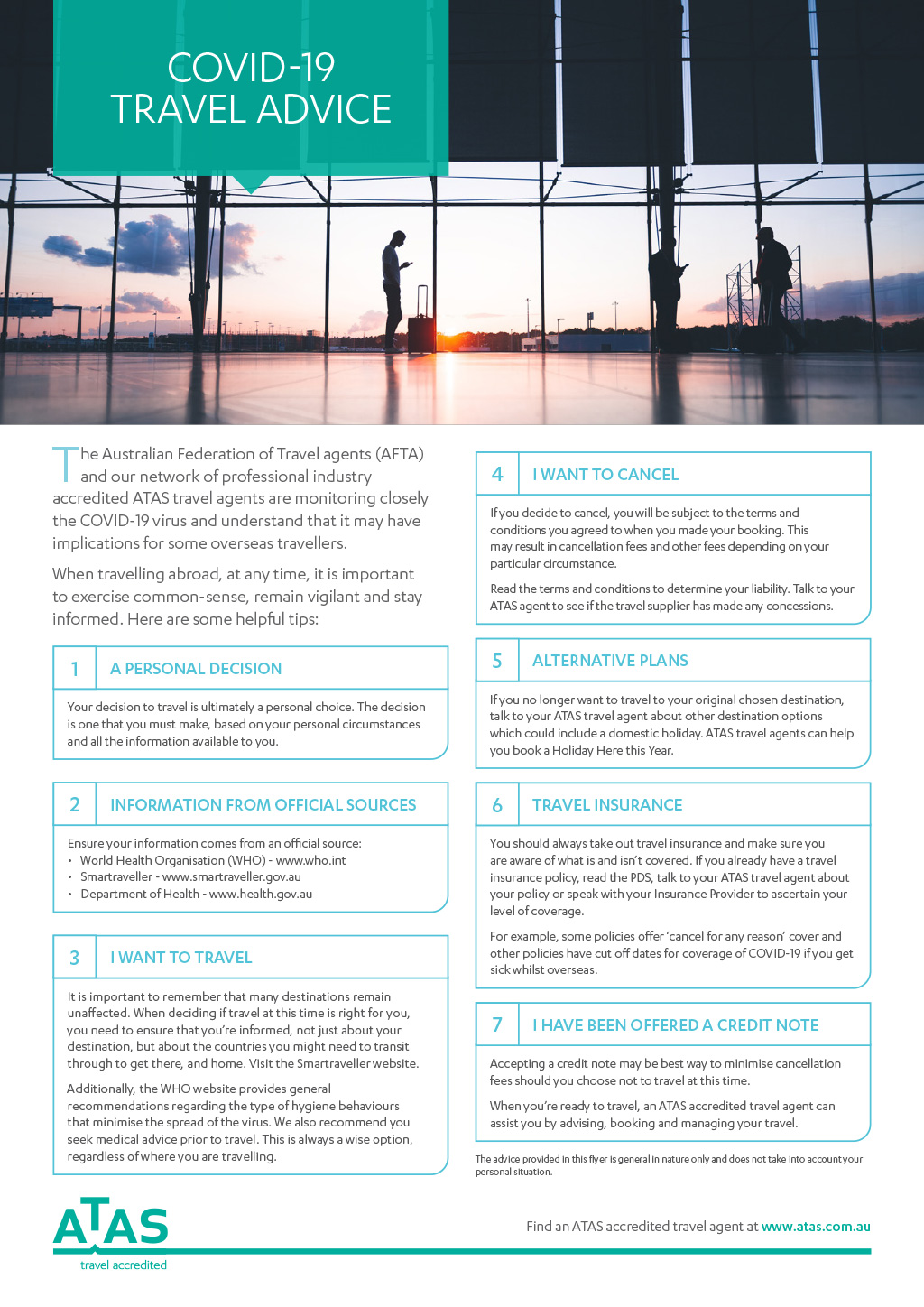 Important Information for guests planning to sail with Royal Caribbean, Celebrity, Azamara or MSC Cruises
We're sure you've been monitoring the news regarding coronavirus COVID-19. This situation remains quite fluid, and we continue to assess the impact and monitor the number of cases around the world. And while there are still a lot of unknowns related to coronavirus COVID-19, we do know it presents the most serious health risks to older individuals, the immunocompromised, and those with serious, underlying medical conditions.
As global developments continue to change daily, we are fully focused on protecting the health and safety of our guests & crew – especially those that are most compromised.
As a result, and to protect your well-being, along with guidance from the U.S. Centers of Disease Control, World Health Organization, and other global public health authorities, we continue to implement new and enhanced health & safety protocols, along with travel regulations. Here's what you need to know.
OUR TRAVEL REGULATION & HEALTH SCREENINGS
TRAVEL REGULATION:
Starting March 16th, 2020, in order to sail:
1. If you are over the age of 70 at the time of embarkation, you must present a doctor's letter stating that you're healthy and fit to travel. Please bring this letter with you which must certify that you have no severe, chronic medical conditions.  
2. Guests of all ages will be screened prior to boarding, regarding underlying issues (chronic heart, lung, liver, or kidney disease, diabetes, HIV/AIDS, or cancer).
If you are unable to provide a fit to travel letter from your doctor or if you have a severe, chronic medical condition, please contact us or your Travel Advisor immediately and we'll provide you with a Future Cruise Credit to come back and sail with us at a later time.
Currently, regardless of nationality, boarding will be denied to:
1. Any person who has traveled from, to, or through mainland China, Hong Kong, Macau, Iran, South Korea, or Europe (excluding the United Kingdom) 15 days prior to embarkation.
2. Any person who has come in contact with anyone with 15-day prior travel to mainland China, Hong Kong, Macau, Iran, South Korea, or Europe (refer to the above link). The CDC characterizes contact with an individual as coming within six feet (2M) of a person.
3. Any person who within 15 days prior to embarkation, has had contact with, or helped care for, anyone suspected or diagnosed as having COVID-19, or who are currently subject to health monitoring for possible exposure to COVID-19.
4. Additionally, for Caribbean itineraries only: The above parameters will also include Japan, Singapore, and Taiwan, but 21 days prior to embarkation.
HEALTH SCREENINGS:  
On all Royal Caribbean International ships, mandatory temperature screenings will be conducted for all guests and crewmembers on embarkation day. If your temperature is above 100.4°F or 38° C, you and those in your party will undergo a secondary health screening. Temperatures will be taken with a digital, no-touch thermometer. So, no need to worry.
Additionally, secondary enhanced health screenings will be performed on:
Any person who reports feeling unwell or displays flu-like symptoms.
Any person who has traveled from, to, or through Japan or Thailand 15 days prior to embarkation.
Any person who is uncertain about contact with individuals who have traveled in the 15 days prior to embarkation from, to, or through mainland China, Hong Kong, Macau, Europe (refer to above link), Iran, South Korea, Japan, or Thailand.
In some cases, guests presenting certain symptoms in the specialized health screenings may be denied boarding.
Additionally, for Caribbean itineraries only: Secondary health screening parameters will include the country of Thailand for travel or contact occurring 21-days prior to embarkation.
If you require a secondary screening, this is what you can expect:
Your temperature will be checked again.
You'll undergo a pulse oximetry reading. This means, a small device will be placed on your finger to measure your oxygen level.
If you happen to have a chronic lung illness, like asthma, please bring a letter from your medical practitioner that indicates your normal baseline oxygen saturation levels. This will help ensure you are not denied boarding if you are healthy otherwise.
Then, a medical professional will check you for flu-like symptoms, respiratory illness, etc., and would make a final assessment to understand if you're fit to sail.
PORT TRAVEL REGULATIONS
Some countries and ports, like those below, have increased their existing travel restrictions. Unfortunately, as a result, we may have to deny you boarding or you may have to remain onboard.
Jamaica: Regardless of nationality or health, any person that has traveled from, to, or through Germany, Spain, or France in the last 14 days will be denied boarding.
New Caledonia: Regardless of nationality or health, any person that has traveled from, to, or through mainland China, Hong Kong, Macau, Italy, Iran, South Korea, Spain, Germany, Egypt, France, Japan, Swiss, Norway, United States of America, England, Netherlands, Sweden, Belgium, Austria, Bahrain, Kuwait, or Iceland in the last 14 days must remain onboard.
Vanuatu: Any guest who has traveled from, to, or through Taiwan, Japan, or Singapore within 15 days prior to sailing will be denied boarding. All guests that have traveled from, to, or through mainland China, Taiwan, Italy, Hong Kong, Macau, Iran, South Korea, Japan, and Singapore since December 31st, 2019 are required to obtain a Medical Certificate from a registered medical practitioner to board the ship. 
CLEANLINESS ONBOARD & IN THE TERMINALS
We continue to take numerous proactive steps to maintain high health standards. This includes:
Thoroughly sanitizing the cruise ship terminal before and after every sailing,
Special sanitizing of high traffic areas onboard multiple times a day,
Adding extra medical staff on each sailing, 
Providing complimentary consultations with medical experts for all guests & crew,
Plus, the Captain will make two daily announcements during your cruise reminding everyone of how to stay healthy onboard.
And remember, you can do your part too! Here are some important tips to help keep you healthy and prevent colds, flus, and stomach viruses – both onboard and on land. 
After using the bathroom and before any meal or snack (it's a cruise; we know there's lots of that), make sure to wash your hands thoroughly with soap and warm water for at least 20 seconds.
If you happen to sneeze, cover your nose and mouth with a tissue (or with your upper sleeve). Avoid sneezing or coughing into your hands or without covering your nose and mouth.
Use hand sanitizer as often as possible. Rub the gel thoroughly, and in-between your fingers, until your hands are dry.
SO, WHAT HAPPENS IF WE HAVE TO DENY YOU
If it is decided that we must, unfortunately, deny you boarding at the terminal, you'll receive a 100% Future Cruise Credit for your cruise fare paid, and any pre-cruise Royal Caribbean International purchases and taxes and fees will be refunded to your original form of payment.
If you or someone in your party does not comply with our updated travel regulation, has a fever before your cruise, or is not fit to travel due to underlying health conditions, please contact your Travel Advisor immediately, or contact us at 1-800-256-6649 or visit www.RoyalCaribbean.com/contactus for your local Royal Caribbean International office phone number. If you're no longer able to sail due to these requirements, our temporary Cruise with Confidence policy allows you to cancel your booking up to 48 hours to departure on sailings departing on or before July 31st, 2020. While the program covers you 48 hours before your departure date, given that this new regulation may impact your sailing tomorrow, you will be covered. For more information on our Cruise with Confidence policy, click here.
As this fluid situation continues to evolve, we plan to be as communicative as possible regarding any changes to our health protocols & travel regulation. We hope that with everything we've implemented, you feel comforted knowing we're doing everything possible to keep you healthy & safe on our ships. We look forward to welcoming you onboard soon!